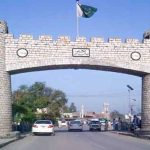 ISLAMABAD: US Ambassador to Pakistan, David Hale phoned family of Sabika Shaikh, who was killed in Texas Shootout to offer his condolence.
David Hale in his message on social media said that staff of the American consulate is deeply grieved over the killing of students in Texas.
Earlier, Chief Minister Punjab, Shahbaz Sharif, Co-Chairman and Chairman of the Pakistan People's Party have expressed grief over the death of Pakistani Student, Sabika Shaikh in Texas School Shooting.
According to the details, Chairman PPP, Bilawal Bhutto Zardari expressed his grief over the death of Sabika Shaikh and offered his condolence to the bereaved family.