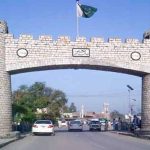 WASHINGTON: The United States government has decided to deport more than 60 Pakistanis, two weeks after the Trump administration imposed visa sanctions on Pakistan.
The individuals were detained and prosecuted for immigration violations, criminal conduct and other serious charges. The United States has arranged a special chartered plane to send these detainees back to Islamabad on Wednesday (tomorrow).
The decision to send these individuals back comes on the heels of a warning issued last month that the United States may withhold immigrant and non-immigrant visas of Pakistani citizens in accordance with its updated list of rules.
Pakistan becomes the latest country to join the list of ten countries that are facing such sanctions under law according to which countries refusing to take back deportees and visa over-stayers could be denied America visas.
Under Section 243 (d) of the Immigration and Nationality Act, the Secretary of State is required to discontinue granting immigrant or non-immigrant visas to a nation after notification from the Homeland Security that the country has denied or is unreasonably delaying accepting a citizen, subject, national or resident of that country.
A senior Pakistani official at the embassy confirmed to The News that the discussion to resolve the matter was ongoing, but claimed that the reports of sanctions regime were misleading.
"Visa matters are dealt with on the basis of reciprocity," the official said, adding that both countries remain engaged in talks to refine visa-related policies.
He said the situation was being monitored and had improved as a result of which Pakistan had revised its visa policy and included the United States in its list of countries whose businessmen can avail themselves of long-term visas and even on-arrival visa facilities.