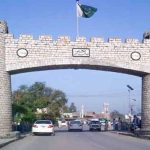 ISLAMABAD: Vehicles of Embassy of the United States (US) in Pakistan reportedly breached security protocol of Interior Minister, Chaudhry Nisar Ali Khan at Kashmir Chowk on Monday.
According to the ministry sources, the vehicles, which later were identified to be with the embassy, were warned against the breach but the persons did not deviate and continued to follow the federal minister in the federal capital.
However, the vehicles entered diplomatic enclave once they were chased down.
Reportedly, the ministry has dispatched a warning to the US Embassy after the incident. The embassy has been warned of restricted movement if violations persist.
The incident surfaced days after Donald Trump, the US President-elect was established a contact with by Prime Minister (PM) Nawaz Sharif over telephone.
The violation was made under watch of incumbent Ambassador David Hale who has convened meetings with the premier and the former army chief, General Raheel Sharif more than once.
However, the embassy is yet to make a statement in the issue.