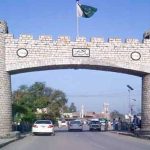 RAWALPINDI: US Ambassador to Pakistan David Hale called on Chief of Army Staff (COAS) General Qamar Javed Bajwa on Wednesday at the GHQ and sought Islamabad's help to resolve the crisis in war-torn Afghanistan.
According to a statement issued by the Inter-Services Public Relations (ISPR) wing of the Pakistan Army, during the meeting, Ambassador Hale said the US values Pakistan's role in the war against terror and is seeking cooperation from Pakistan to resolve the Afghan issue.
Laying emphasis that peace in Afghanistan was important for Pakistan as for any other country the Army Chief added that Pakistan has done a lot towards that end and shall keep on doing its best; not to appease anyone but in line with Pakistan's national interest and national policy.
The COAS said that Pakistan is not looking for any material or financial assistance from the United States but rather trust, understanding and acknowledgment for Pakistan's contributions.
Collaboration and synergy and effort between stakeholders is the key to success to bring this long drawn was in Afghanistan to its logical conclusion, the Army Chief concluded.