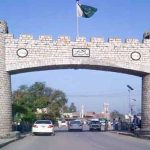 ISLAMABAD: Foreign Minister Shah Mehmood Qureshi says the United States has not imposed any visa restrictions against Pakistan.
He was briefing National Assembly Standing Committee on Foreign Affairs, which met in Islamabad today with Ehsanullah Tiwana in the chair.
The Minister said the United States is going to deport over seventy illegal Pakistanis. He said Pakistan has asked the United States to fulfill legal requirements about the Pakistanis being deported.
Shah Mehmood Qureshi said Pakistan is facilitating intra-Afghan dialogue.
The Minister informed the Committee that he will pay two-day visit to Kuwait on Saturday and will have meetings with the Kuwaiti leadership.
He said he will also take a letter from Prime Minister Imran Khan to the Emir of Kuwait on visa issue.
He said enhancement of bilateral trade will be discussed in the meetings. He said the Emir of Qatar is also expected to visit Pakistan in near future.
Later, talking to media persons, the Foreign Minister expressed concern over tension between Iran and the United States, saying it is impacting the region.
He said Pakistan is closely observing the situation and will formulate a strategy keeping in view the national interest.
He said Pakistan wants to make progress on multi-billion dollar Iran-Pakistan Gas Pipeline project but there is third party hurdle in the form of sanctions against Iran.
He said Pakistan is discussing this issue with Iran.
The Foreign Minister said Pakistan and China are reviewing the matter of human smuggling and an effective policy will be framed in this regard.He said some forces wants to affect Pakistan-China relations.