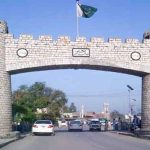 WASHINGTON: United States has made it overtly clear that it fully supports Pakistan's territorial integrity while dismissing the notion that it supports baloch terrorists or any other insurgent group that threatens Pakistan's sovereignty.
Ambassador Alice Wells, the principal deputy assistant secretary, Bureau of South and Central Asian Affairs at State Department, made the remarks during a talk titled "Signs of Hope for Afghan Peace Talks" at on March 9 at the US Institute of Peace in Washington, DC.
"We firmly support Pakistan s territorial integrity," she said, adding that the message of the Trump administration is that any group or any terrorist group threatening any country in the region has to be opposed.
The US, she said, has not yet seen "decisive or sustained changes" in Pakistan s behaviour and as a result, "we suspended our military assistance," she said.
"But we are not walking away from Pakistan. This relationship is important to us and we re continuing our intensive dialogue through both our military and civilian channels to discuss how we can work together better", asserted Alice.