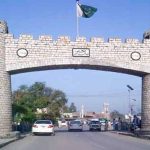 The US administration has offered its help to Pakistan in dealing with the outlawed Tehreek-e-Taliban (TTP) threat as the banned outfit members have seized control of the counterterrorism department (CTD) in Bannu, Khyber Pakhtunkhwa.
"Well, first on the ongoing situation in Pakistan, we are of course aware," US State Department spokesperson Ned Price said while addressing a news briefing on Monday. "We've been closely following reports that militants have seized control of the counterterrorism center in Bannu."
He was responding to a query on the siege of CTD centre in Bannu that started on Sunday and continues today (Tuesday) as the stalemate continues. Price was asked whether he sees in the coming days any over-the-horizon or under-the-horizon drones coming back to the region and targeting such terrorist groups, or the situation has not gotten that worse yet.
Price, after offering his deepest sympathies to those injured, said: "We have partnered with our Pakistani friends to take on – to help them take on this challenge."
He urged those responsible for the attack to cease all acts of violence, to safely release those who remain hostage, and to end the seizure of the counterterrorism center. Sources said that around 10 staff members were taken hostage by the militants, with three casualties being reported.
"Of course we refer you to the Government of Pakistan for details on this ongoing situation. But the broader point is that the Government of Pakistan is a partner when it comes to these shared challenges, including the challenge of terrorist groups – terrorist groups inside of Afghanistan, terrorist groups along the Afghan-Pakistan border."
The Khyber Pakhtunkhwa government has warned the terrorists of dire consequences if they did not lay down arms. It has maintained that the militants would not be treated lightly.