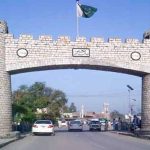 WASHINGTON: United States has once again asked Pakistan to "do more" against terrorist organizations allegedly operating from its soil.
"Vice President Pence reiterated President (Donald) Trump's request that the Government of Pakistan must do more to address the continued presence of the Taliban, Haqqani Network, and other terrorist groups operating in their country," a White House statement read.
Pence reiterated Trump's request in a meeting with Pakistan's premier Shahid Khaqan Abbasi at his residence. The meeting lasted for 40 minutes.
"Pakistan could and should work closer with the United States," Pence added.
Sources said that Pak-US bilateral ties, situation in Afghanistan and Pakistan's success in the war against terrorism came under discussion between the two leaders.