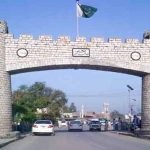 HYDERABAD: Caretaker Foreign Minister Abdullah Hussain Haroon said Pakistan cannot accept the blame game which has been unleashed under the FATF.
He was talking to media persons in Hyderabad.
He underscored the need of formulating Pakistan's foreign policy anew so that the country could set its priorities itself.
He deplored that United State is ignoring Pakistan despite its tremendous sacrifices in war on terrorism.
The Foreign Minister said Pakistan suffered great losses as frontline state in Afghan wars.
The Foreign Minister held the US responsible for Pakistan's prevailing situation in the country.