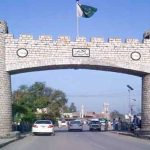 ISLAMABAD: US Secretary of State Mike Pompeo Wednesday called on Prime Minister Imran Khan at the Prime Minister office.
The US secretary of state, who is leading a high level delegation, congratulated the Imran Khan on his election as prime minister of Pakistan.
Foreign Minister Shah Mahmood Qureshi and other officials were also present in meeting.
They discussed bilateral relations between the US and Pakistan, situation in Afghanistan and Pakistan's role in war on terror.
According to reports, Pakistani leaders told the United States that mutual interests of the both the countries need to be considered in bilateral relations. They made it clear to the US delegation that Pakistan would not bow down only for Washington's interests.
According to diplomatic sources, US officials reiterated the demand of "do more" at the meeting, however, Pakistani leadership presented its stance in a comprehensive manner.
The US secretary of state and others then left for India from Islamabad Wednesday evening.