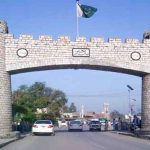 ISLAMABAD: Pakistan's Foreign Minister Khawaja Asif has said that the United States should assist Pakistan in fencing along the Pakistan-Afghanistan border.
Khawaja Asif said in an interview with Bloomberg that as many as 70,000 people are crossing the border a day, terming it a "free for all".
"These issues are facilitating terrorism," he said, adding that the border fence will stop the flow of militants crossing into both countries unchecked.
Asif said Pakistan expects the fence to be completed by the end of 2019.
"It won't cost them (US) much," Asif said. "The war is costing them much more."
The foreign minister said fencing the border is in the mutual interest of both Afghanistan and Pakistan.
"Any free movement from their side to our side, or our side to their side, can breed mistrust and obviously some terrorist activity on our side or on their soil," he said.
Asif had in December said that about 9,000 tonnes of opium was being cultivated in Afghanistan and that it was strange that a huge cache of narcotics — amounting to nearly $150 billion — was being smuggled in the presence of allied forces.
Asif in the Bloomberg interview also called upon the US to extend its help for repatriation of Afghan refugees residing in Pakistan, which he said is paramount to establishing peace.
Terming the camps breeding grounds for insurgency, the foreign minister said the global fraternity must do more to assist Pakistan with shouldering the burden of repatriation.
When asked to comment on Trump's tweets, Asif reiterated that "both sides are trying to decrease the stress".
Pakistan has previously also asked the US to assist in the process of returning Afghan refugees and called upon Afghanistan to focus on "border management" and fulfill its responsibility in ensuring no crossing over the porous border.
Pakistan has also denied repeated allegations by the US that Pakistan is providing safe havens to terrorists who use the country's land to launch cross-border attacks into Afghanistan.