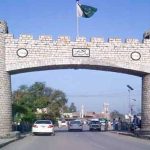 WASHINGTON: The United States said on Thursday that it supports direct dialogue between Pakistan and India on the Kashmir issue and called for calm and restraint amid tense situation.
"We continue to support direct dialogue between India and Pakistan on Kashmir and other issues of concern," the US State Department said in a statement.
India on Monday revoked Article 370 of its constitution stripping occupied Kashmir or its special status. In response, Pakistan downgraded its diplomatic ties with India.
Escalating tensions in the region – which earlier peaked after Pakistan shot down at least one Indian fighter aircraft in February – raised concerns in the State Department on the potential of increased instability between the two nuclear-armed neighbours.
"We continue to be concerned by reports of detentions and the continued restrictions on the residents of Jammu and Kashmir. We urge respect for individual rights, compliance with legal procedures, and inclusive dialogue with those affected," added the statement.
India imposed an unprecedented lockdown in the occupied valley in the runup to its unilateral and illegal move and deployed thousands of extra security personnel, bolstering the hundreds of thousands already deployed in IoK.
"We call upon on all parties to maintain peace and stability along the Line of Control (LoC), including taking firm and resolute steps to combat cross-border terrorism," the US State Department further said.