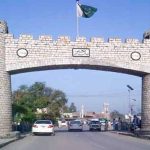 WASHINGTON: Briefing the newsmen in Washington on Monday, Director, Press Operations at US Department of State, Elizabeth Trudeau while expressing concern over tense situation on Line of Control has urged Pakistan and India to demonstrate calm and restraint.
Elizabeth Trudeau said that she won't comments on Indian claim of surgical strike inside Pakistan territories and added that we're not going to speak to specific reports of incidents along the border.
She said that the militaries of both Pakistan and India are in touch and we believe that that continued communication is vital to reduce these tensions.
Elizabeth Trudeau said that US is in favor of any reduction of tensions that both sides agree to in this particular instance and added that we have strong ties with both Pakistan and India, and we'll engage on that basis.
Answering a question, Elizabeth Trudeau said that our position on Kashmir has not changed and added that the US is having conversations with both Pakistan and India on the importance of reducing the tensions in the region.