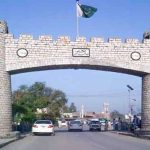 WASHINGTON: United States has welcomed Prime Minister Imran Khan's desire for peace with India and Afghanistan.
In a press conference in Washington, Head of the Bureau for South and Central Asian Affairs at the State Department, Alice Wells said that main objective of the Trump administration's South Asia strategy is to restore peace and stability in Afghanistan with the support of other regional states.
She said Pakistan has a critical role to play in stabilization of Afghanistan and the United States has encouraged Pakistan to take stronger steps to ensure that the Taliban either come to the negotiating table or are expelled back into Afghanistan.
Alice Wells said Pakistan and Afghanistan have embarked on efforts to improve the bilateral relationship and Washington strongly supports negotiation of a solidarity document between the two countries.