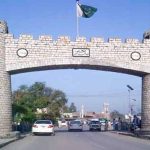 WASHINGTON: The United States (US) has welcomed the expected meeting between foreign ministers of Pakistan and India hoping the meeting would pave way for strengthening relations of both the sides.
In a press briefing, spokeswoman for the US State Department Heather Nauert said that the meeting is a step towards improvement in relations between Pakistan and India.
She said that the foreign ministers of Pakistan and India being on table and holding discussion is a positive message.
The spokeswoman added that prime ministers of both the countries have exchanged positive messages.