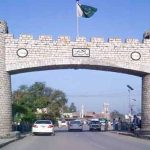 WASHINGTON: Pakistan's Ambassador to United States Aizaz Ahmad Chaudhry said that Pakistan had cooperated with the United States (US) in war on terror and wanted to continue the efforts in the future.
During an interview with a private news channel, Aizaz said that relations of Pakistan with China and the US had great importance.
He said that instead of praising Pakistan's role against terrorism, the US was blaming Islamabad for its failures in Afghanistan.
He also termed this attitude of the US as totally unfair.
Aizaz Chaudhry said Pakistan had been bearing burden of more than 3.5 million Afghan refugees for four decades and US should help us for their repatriation.
He said Taliban leadership had shifted to Afghanistan and Pakistan armed forces had destroyed all terrorists' nurseries.
Aizaz added that there was no safe haven for terrorists in the country.