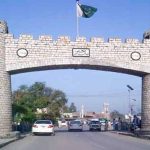 ISLAMABAD: Refusing to end their protest on the issue of possible privatization of Utility Stores Corporation, the workers continued their sit-ins for a second day on Tuesday (today) and spent the night on the roads.
Hundreds or protesters gathered on the D-Chow of Islamabad, declined to wind up their demonstration until the issuance of a promised notification, stipulating to accept their demands, from the trade adviser.
A day earlier, the Prime Minister's aide Naeem-ul-Haq addressed the agitated employees and assured that all their demands would be fulfilled and no one would lose their jobs neither would any outlet be closed.
He also assured that all daily wage earners and contract employees would be regularised by the government by implementing an order passed in 2017. He said that government would also pay all the outstanding amounts owed by the Utility Stores Corporation.
However, despite the assurances the employees refused to end the protest until a notification was issued and the planned privatization of the utility stores corporation was halted immediately.
The employees of the Utility Stores Corporation, the country's biggest state-run retail chain, had urged the government to settle Rs 27.6 billion worth of subsidy claims pending for the last seven years, which is creating a financial crunch for the corporation, leading to its possible closure.
They also demanded that their contracts be made permanent and wages and salaries be increased, and had threatened to close utility stores until their demand were not fulfilled.
Earlier in August, the government ordered the Utility Stores Corporation to halt all purchases until further notice, leaving as many as 14,000 employees in the lurch.
The Utility Stores Corporation of Pakistan is a state-owned enterprise that operates chain stores all over the country which provide basic commodities to the general public at prices lower than the open market due to government subsidies.