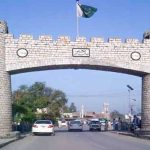 KARACHI: Former Pakistani actress Veena Malik Saturday expressed desire to admit her children to Jamia Binoria an Islamic educational institute in Karachi.
Talking to media along with Mufti Naeem and others Veena Malik said that she wanted to admit her son and daughter to Jamia Binoria for religious education. She said that there was no religious institute better than Jamia Binoria adding that she wanted to make her son Hafiz e Quran .
The former actress said she met Maulana Tariq Jameel following her marriage with Asad Khattak. She said meeting such personalities revealed to her the reality of life.
Veena said her father played a key role in bringing change in her life. "Our elders never want anything bad for us", she said.
On the occasion Asad Khattak said that he would not sing any commercial song adding that he recorded his song only for the country.
When asked if she would invite fellow celebrities to follow her example, she said she could only do that when she becomes "a perfect person, which will never happen". She added, "but the doors of Jamia Binora have always been open for me, and are open for anyone who chooses to seek its guidance."
She concluded with a message to the youth: "The teen years are a very fragile time, when we have lots of questions in mind. I would advise my young brothers and sisters to listen to their elders, for they will never disappoint us and want the best for us in this world and the hereafter."