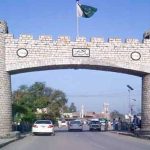 LAHORE: Appellate tribunals on Monday allowed Pakistan Tehreek-e-Insaf (PTI) chairman Imran Khan to contest the upcoming general elections on NA-95 constituency of Mianwali and NA-131 Lahore.
The tribunal while hearing the appeal filed by Imran Khan seeking the annulment of returning officer's decision rejecting his nomination papers.
Earlier today, the tribunal of Lahore High Court (LHC) had reserved its verdict on the appeal of Imran Khan challenging the rejection of his nomination papers for the said constituency.
During the hearing, Imran's counsel Babar Awan argued that his client had declared all his assets.
Imran's counsel requested the tribunal to declare the RO's decision null and void and added that the tribunal should allow Imran to contest the upcoming election from NA-95.
Opposing Imran's plea, lawyer Jahandad Khan told the court that Imran's affidavit was not attested by oath commissioner.
He further said that signatures of Imran Khan were different on every page.
Hearing arguments of both the sides, the tribunal reserved its verdict.
Meanwhile, the Appellate  Tribunal also rejected appeals against acceptance of Imran Khan's nomination papers for NA-131 Lahore.