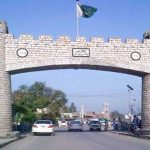 KARACHI: The Central Ruet-e-Hilal Committee will meet today (Thursday) in Karachi for Shawal moon sighting with optimistic meteorologists saying visible chances are there the moon will be sighted.
Central Ruet-e-Hilal committee will meet under the chairmanship of Mufti Muneeb-ur-Rehman where as zonal committees will hold meetings in major cities of the country to collect evidence regarding the sighting of Shawal moon.
A formal announcement regarding Eid-ul-Fitr will be made after evidence of moon sighting is collected from different parts of the country.
Earlier, Pakistan Meteorological Department (PMD) said that there are visible chances of the Eid moon being sighted today (Thursday).
According to Met Office, the Shawal moon will born on June 14 at 12 in the night and would have an age of more than 19 hours till tomorrow evening.