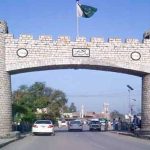 ISLAMABAD: The voluntary repatriation of Afghan refugees from Pakistan to their motherland begins on Monday.
A spokesman of the UNHCR has said that three hundred and eighty thousand registered Afghan refugees were repatriated to Afghanistan from different areas of Pakistan last year.
A repatriation center has been opened at Chamkani near Peshawar to register those refugees who want to go back to Afghanistan.
The UNHCR is providing four hundred dollar to each returning Afghan refugee besides food and other basic items.