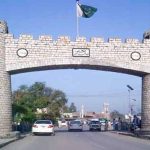 ISLAMABAD: Pakistan is all set for the high-stakes Senate polls today (Wednesday) with polling scheduled from 9am to 5pm.
The MPs will be voting on 37 vacant seats of the Senate with 11 senators elected unopposed from Punjab. Now polling will be held for 12 seats each of Balochistan and Khyber Pakhtunkhwa, 11 of Sindh and two of the federal capital. MPAs from the three provincial assemblies will cast their vote for the candidates fielded from Balochistan, KP and Sindh, while MNAs will choose the representative from the federal capital.
The results are expected to be announced at 6pm for Islamabad seats while in other assemblies the winning candidates would be announced around 7pm.
The government has been accusing the Opposition of being involved in illegal activity by using money to gain votes, while the Opposition is blaming the ruling PTI for raising the open ballot issue because it is not sure of its lawmakers' loyalties.
The blame-game became intense Tuesday when a video of Ali Haider Gilani, son of Pakistan Democratic Movement's Senate candidate Syed Yousuf Raza Gilani, emerged in which he was allegedly telling the PTI MPAs how to discard votes. The PPP leader, however, has admitted that he was in contact with the PTI members who had approached him to seek help.