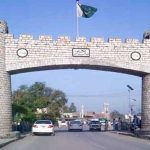 NEW YORK: Vice President of General Electric (GE) met Prime Minister Shahid Khaqan Abbasi on Tuesday in New York, informed a press statement from the PM Media Office.
During the meeting, the VP expressed interest in expanding business in Pakistan, saying that Pakistan is a very important market for GE.
According to the press statement, VP Rice expressed his desire for investment in locomotives fabrication and health sector system delivery.
The premier while appreciating the long association of GE with Pakistan, said that the country is immensely benefiting from the expertise of the company.
PM Abbasi further said that Pakistan is open to investment by foreign companies and looking forward to more US companies to invest in various fields here, according to the statement.
Prime Minister Abbasi is in New York to lead the country's delegation at the 72nd session of the United Nations General Assembly (UNGA).
The Premier's address to the UNGA — slated for September 21 — will be his debut into the highest international diplomacy after being sworn in as the Prime Minister last month.
It will also coincide with US President Donald Trump's maiden speech at the UN.
Abbasi — despite looking at a tight schedule during his four-day visit to the US — will be interacting with US Vice President Mike Pence. He will also partake in UN events pertaining to the UNGA as well as those related to forums on the 193-member body's sidelines.
In addition, the PM is scheduled to meet UN Secretary-General Antonio Guterres as well as leaders of various nations that are part of the UN. He will also be speaking to representatives of the Council on Foreign Relations and US-Pakistan Business Council.
Presidents, prime ministers and other top-level delegates will engage in the week-long debate which follows the theme "Focusing on People: Striving for Peace and a Decent Life for All on a Sustainable Planet".