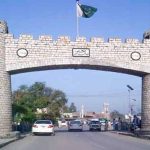 ISLAMABAD: Foreign Minister Shah Mahmood Qureshi has said that two atomic powers should avoid to go war while the war between two atomic powers will be tantamount to joint suicide.
Addressing a diplomatic core at the foreign ministry Foreign Minister Shah Mahmood Qureshi said that Pakistan has rejected an unilateral action of India of scrapping special status of Indian Held Kashmir (IHK) by revoking article 377 of Indian constitution while unfortunately India didn't take Pakistan talks offer seriously.
The Foreign Minister said that United Nation's security council convened its meeting on Kashmir despite opposition from India while he asked that if India took decisions in occupied Kashmir of betterment so why curfew has been imposed adding that he contacted to his several counterparts around the world and they are getting aware that the matter is a grim beyond their thinking and the impression what India is trying to give is not right.
Foreign Minister said that what the New York times reported regarding (Kashmir) we have been discussing for many days while international institutions are saying today what Pakistan has been saying for long.
Shah Mahmood Qureshi said Indian channels run a false news of attack yesterday by Pakistan on the orders of its government while we wanted to keep International community update on situation in Kashmir.
He requested the international community that situation in occupied Kashmir is very serious and it should take notice of it immediately.