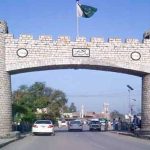 KABUL: Loud gunfire echoed across Kabul as Taliban fighters seized control of the airport on Tuesday before dawn after the last US troops withdrew, ending a 20-year war that made the militia stronger than in 2001.
Video footage sent by Khyber News special correspondent Waqas Shah shows fighters entering the airport after the last US troops took off one minute before midnight.
The US military has shared night vision photos of the last US soldier to board the last evacuation flight from Kabul, Major General Chris Donahue, commander of the 82nd Airborne Division.
America's longest war claimed the lives of nearly 2,500 American soldiers and some 240,000 Afghans, costing an estimated $2 trillion.
Large-scale but chaotic air transport from the US and its allies has evacuated more than 122,000 people from Kabul in the past two weeks, but still leaves tens of thousands of Afghans who have helped Western countries and fear Taliban repression.
An American contingent, estimated by US Secretary of State Anthony Blinken to be under 200 and possibly close to 100, wanted to leave but was unable to board the last few flights.
General Frank Mackenzie, commander of US Central Command, told a briefing at the Pentagon that the top US diplomat in Afghanistan, Ross Wilson, was on the last flight of the C-17.
"There's been a lot of heartbeat associated with this departure. We didn't get everyone out that we wanted. But I think if we stayed 10 days we wouldn't get everyone out," Mackenzie told reporters.