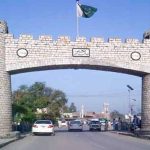 PESHAWAR: The newly appointed Chief of Army Staff (COAS) General Qamar Javed Bajwa on Wednesday pledged that the war on terror will continue with focused approach to logical conclusion.
The new Army Chief, General Bajwa today visited Corps Headquarter Peshawar and North Waziristan Agency. He was accompanied by corps commander Peshawar Lieutenant General Hidayatullah and DG ISPR Lieutenant General Asim Bajwa.
The Army Chief was briefed on the ongoing operation Zarb-e-Azb against terrorism.
General Bajwa pledged that the war on terror will continue with focused approach to logical conclusion. He said that strict action would be taken against facilitators of terrorists. "Will move ahead of gains already made so far" COAS said.
He vowed to facilitate the process of IDPs repatriation and extend all out support to the displaced families.
General Bajwa emphasized that defence and security of Pakistan against external and internal threat would remain his ultimate objective as the Army Chief.
In North Waziristan, the COAS was briefed by local formation commander on security situation in the Agency, resettlement phase of Temporarily Displaced Persons (TDPs) and inspected reconstruction work on ground.
While speaking to troops on the occasion, the COAS said that war against terrorism will continue with focused approach and it will be taken to its logical conclusion till total elimination of terrorism from our soil.
"We will continue to move ahead of the gains already made so far," the COAS said according to the Inter Services Public Relations (ISPR).
Paying tribute to brave tribes, Officers and men of Army, Frontier Corps (FC), levies, & police, he vowed that no terrorists of any hue will ever be allowed to come back.
The COAS also stressed the need for expediting pace of new raising of FC wings to enhance an effective Pak-Afghan border management.
General Bajwa said that TDPs return should be completed within stipulated time, and they should be assisted in all ways to resettle respectfully.
Earlier the new COAS visited Corps Headquarters Peshawar where he was given detailed briefing at Crops Headquarters about prevailing security situation in Khyber Pakhtunkhwa, Federally Administrated Tribal Areas (FATA) and Malakand Division, ongoing stabilization and combing operations, progress of return of TDPs and continuing development works.
Upon his arrival in Peshawar, the COAS was received by Corps Commander 11 Corps Lt General Hidayat ur Rehman who also accompanied him to North Waziristan.