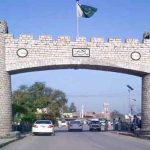 LAHORE: Chief Justice of Pakistan (CJP) Justice Mian Saqib Nisar on Saturday said that weakening Pakistan with regards to water shortage is an international conspiracy, adding that the water crisis is a criminal negligence.
Addressing a ceremony at the Judicial Academy in Lahore, CJP Saqib Nisar said that there would be a sever water crisis in the country in the future adding the inefficiency of concerned institutions caused the problem of water shortage.
CJP said that he tried to bring change in every department but couldn't do whatever he wanted to. He said that instead of our personal interests, we will have to keep the priority of country's interests first.
"We have to leave a better country for our future generations," he said.
Justice Saqib Nisar said that Pakistan into being through a struggle, adding that every child is under a debt of Rs1,70,000.