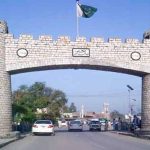 PESHAWAR: The World Bank has expressed its willingness to cooperate with the Khyber Pakhtunkhwa Government for development of the province.
The assurance was given by Country Director of the Bank, Patchamuthu Illango during his meeting with Khyber Pakhtunkhwa Minister for Tourism Atif Khan and Minister for Local Government Shahram Khan in Peshawar today.
They discussed matters relating to ongoing development schemes in tribal districts of the province. These schemes are being completed with financial assistance of the World Bank.
Patchamuthu Illango told the World Bank is also working for the development of different sectors including business and tourism in the province.