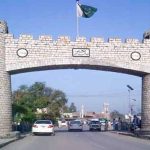 ISLAMABAD: Chairman Pakistan Peoples Party Bilawal Bhutto Zardari has said that we are taking the Imran Khan's charges against Asif Ali Zardari seriously as Imran Khan's statements have increased threats to his father and family.
In a statement, Bilawal Bhutto Zardari said that terror groups have hurled threats to him and his party. Imran Khan has levelled baseless allegations against Asif Ali Zardari, he said and added, "we are looking into legal aspects of the charges. The PPP would challenge Imran Khan over these charges". He said that Imran Khan had earlier threatened his father with aiming gun at him.
Bilawal said that there were documentary evidence of Imran Khan and his supporters' facilitation of the terrorists. Imran Khan has released terrorists and put democrats into jail during his government, he said, adding that Imran Khan has handed over Khyber Pakhtunkhwa to terrorists. He alleged that Imran Khan's party is funding the terrorist till today, saying that if something happened to him, his father or party, Imran Khan would be responsible.