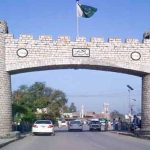 CHINIOT: Pakistan Peoples Party (PPP) chairman Bilawal Bhutto Zardari has said that his party want to make institutions and the system strong
Addressing a press conference on Thursday, Bilawal said that an alliance can be made with those stand with the PPP as per its party manifesto.
Bilawal stated further that alliances have always been formed against the PPP but the party has persevered.
The PPP chairman also reiterated that a weak democracy is better than a powerful dictatorship.
Responding to comments by Pakistan Tehreek-e-Insaf leader Shah Mehmood Qureshi, a former PPP member, Bilawal said Qureshi was present when the Charter of Democracy was signed and knows well that its aim was to strengthen democracy.
He asked Qureshi what his present party stands for — other than making a mockery of the political system.
The PPP chairman repeated his invitation to those parties interested in altering the charter's principles according to the present times to join him.