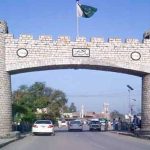 NOWSHERA: Chairman Senate, Raza Rabbani asserted that rival forces rooting for Muslims to stand against each other.
While addressing Jamiat Ulema-e-Islam Fazl (JUI-F) convention in Azakhel, Nowshera on Saturday, Rabbani called for government to present their viewpoint over Syria in the United Nations (UN) after having reached consensus within.
Raza Rabbani acknowledged that the convention bore grave importance in the wake of internal and external conditions facing the country.
He maintained that conspiracies against Islam have been carried out through master scheme, adding that, Islam is being presented as terrorist religion in the world.
He further claimed that western countries are working to bring Muslim majority states down and, unfortunately, are succeeding.
He urged the convention to send a message that Mulsims are united and together they will defeat every conspiracy against them.
He strongly protested against American strikes in Syria and suggested the Government to present to UN after due deliberation.