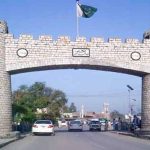 ISLAMABAD: chief minister, Interior Minister Rana Sanaullah stated on Wednesday that the Federal government is drafting a summary to impose governor's rule control in Punjab.
"The summary to impose governor's rule is being drafted, and I — personally — have started work on it," Rana Sanaullah told a press conference. He made this announcement in response to the PTI leaders remarks that interior minister would not be allowed to enter the province.
But for legal experts, his argument and logic is hardly convincing.
The procedure for imposing the governor's rule has been modified by the 18th amendment. In accordance with the constitution's articles 232 to 235, governor rule in a province may only be announced if it appears that there is breakdown to the constitutional machinery.
Basically, governor's rule serves to transfer a province's system to the federation, however, since the passage of the 18th amendment, Governor's rule is now subject to approval by the assembly of the respective province.
According to Article 232 of the Constitution, the President may declare a state of emergency and impose Governor's rule if the security of the country is threatened by war or any other internal or external threat and the provincial administration is unable to address it.
The concerned assembly must, however, approve the imposition of governor's rule by passing a resolution with a simple majority. If the relevant assembly didn't pass the resolution, then approval must be taken from the both houses of the Parliament- the National Assembly and Senate.
The Provincial Assembly will send the resolution to the President and will request to declare state of an emergency in the province. Contrary to it, if the President wants to declare a state of emergency, he must submit it for approval to both houses of the parliament.
The federal government has the authority to declare an emergency in a province by citing the need to maintain law and order, the provincial government's failure to operate the political system in accordance with the constitution, or an economic emergency. However, this is subject to permission from the relevant provincial assembly or approval from the National Assembly and Senate.
Legal Experts
Former Attorney General Anwar Mansoor Ali Khan says that Until the chief minister of the province declared that the situation in the province had changed to the point where the governor's authority can be enforced, the governor's rule can't be imposed. If the chief minister of the province doesn't ask the prime minister to impose governor's rule, the federation cannot do so.
The federal government can't impose governor's raj if the chief minister of the province doesn't request to the prime minister.
Even the chief minister, in his opinion, requires the assembly's approval before taking any action.