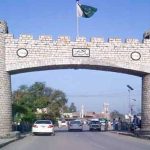 PESHAWAR: The Khyber Pakhtunkhwa Governor Shah Farman has lauded the spirit of tribal people who left Peshawar for Muzaffarabad today to express solidarity with their Kashmiri brothers.
In a statement in Peshawar on Monday, he said the whole nation stands with Kashmiri people in their struggle for freedom.
He demanded the international community and United Nations to play its role in solving the Kashmir issue.