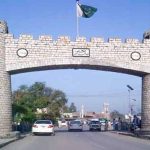 GWADAR: Prime Minister (PM) Imran Khan Friday laid foundation stone of Gwadar International Airport.
Addressing the ceremony, the prime minister said that not only Balochistna, but the whole region will benefit from the development of Gwadar.
He also announced projects of Quetta-Zhob motorway and construction of railway track from Quetta to Gwadar. He also announced to connect Gwadar's electricity supply with national grid.
The premier also announced to plant 1 million trees in Gwadar. He said, "We will recycle water just like Dubai and Sharjah. The progress of Gwadar is progress of Pakistan." He also announced that Insaf health would also be given to the residents of Gwadar. "As many as 7.20 lakhs families will benefit from Insaf card". He regretted that Balochistan did not benefit from natural gas being extracted from its reserves.
He said that he was going to visit China next month where he would ink various uplift agreements and sign memorandum of understandings (MOUs).