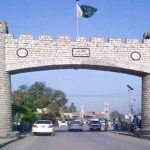 ISLAMABAD: Minister Shahid Khaqan Abbasi has said that the opposition's nomination for caretaker prime minister would be accepted.
In an interview, the premier said that the PML-N government hasn't forwarded the name of any former general for the slot of caretaker PM. "A retired judge, bureaucrat or a trader could become the PM in the caretaker set up," Abbasi said. "The name of any retired politician can also be considered."
"This issue should not go to the Election Commission of Pakistan," he added.
Prime Minister Shahid Khaqan Abbasi has said general elections will be held in time and the nation will decide who will be the next government.
He claimed the PML-N will again win the general elections with huge majority due to its performance during last five year.