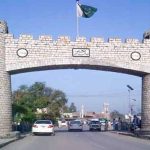 GARHI KHUDA BUX: Pakistan People Party (PPP) Co-Chairman Asif Ali Zardari on Wednesday claimed that he would not even let Nawaz Sharif to have his own Punjab chief minister in the next general elections adding that PPP will make government in alliance with other parties except PML-N.
While addressing rally on Bhutto's 39th death anniversary in Garhi Khuda Bux, Zardari said that the former prime minister Nawaz Sharif won 'RO Elections'.
He alleged that the Pakistan Muslim League-Nawaz leader has always disrupted the PPP governments with the support of the establishment.
The former president said that no matter what happens, we (PPP) will remain at war with PML-N.
He alleged that the government spent millions to win a seat from Lahore.
Caravans of Bhutto supporters have reached Larkana from across the country ahead of the party founder's death anniversary.
The PPP has set up two camps, one in Larkana and the other in Garhi Khuda Baksh where Bhutto is buried, in order to facilitate party workers.
Senior party leaders; including Opposition leader Khurshid Shah, Sherry Rehman, Qamar Zaman Kaira are present in the rally ground.