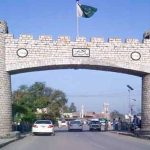 ISLAMABAD: Chief Justice of Pakistan (CJP), Justice Saqib Nisar has said that there was no room for judicial martial law in the Constitution saying that he would never break anyone's trust.
Addressing a ceremony here in Islamabad on Thursday, the CJP promised the entire nation of the supremacy of Constitution and democracy.
He said, "There would be no deviation from the constitution as long as I am here" and added that he would prefer go home instead of getting ashamed for judicial martial law.
The CJP added that next general elections would be conducted in time.
Recalling late Asma Jehangir, Saqib Nisar said that she was a brave woman and added, "She would give me advice like a sister".
She always stood up for human rights and would represent human rights cases voluntarily, the CJP recalled.
Once in hearing of a case, she complained for not being given relief said the CJP and regretted that he could not give her the relief.