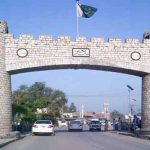 RAWALPINDI: Army Chief General Qamar Javed Bajwa has paid homage to the security guards who were martyred in the terrorist attack on Pakistan Stock Exchange.
In a tweet by the DG Inter Services Public Relations (ISPR), Army Chief General Qamar Javed Bajwa has said that peace in the country was hard-earned through sacrifices of our martyrs and we will not allow the enemy's nefarious designs to destabilize it.
The COAS paid glowing tribute to the security officials who took the terrorists head-on and prevented a major terrorist incident. He appreciated the joint effort of the law enforcement agencies, including Pakistan Rangers and Sindh Police, for their swift operation foiling the terror attack in minimal time.
The Army Chief General Qamar Javed Bajwa said that with the support of our resilient nation, we will neutralize any efforts by the enemy to destabilize the country's peace.