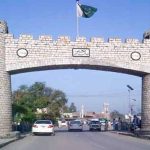 ISLAMABAD: Chief Minister Khyber Pakhtunkhwa Pervez Khattak on Wednesday said that a list comprising names of Pakistan Tehrik-e-Insaf (PTI) parliamentarians who sold their conscience in Senate election has been completed adding that strict action will be taken against those involved in selling their votes.
While speaking to journalists outside the anti-terrorism court (ATC) in Islamabad, Pervez Khattak said that PTI chief Imran Khan will make announcement in a press conference today regarding the 13 MPAs who sold their votes in the recently held Senate election. "The verdict will be out today. Imran Khan will make the announcement in a press conference," he said.
Pervez Khattak remarked that he supports the rights of the Pakhtun and has endeavored towards it, adding that the party will not tolerate a single word against Pakistan Armed Forces or state's institutions.
About budget for the upcoming fiscal year, Khattak remarked that it is "pre-poll rigging". "It is unfair for the current government to present the budget for the upcoming government," he said.
The ruling Pakistan Muslim League-Nawaz government is expected to announce the budget for next fiscal year on April 27 in a special session of National Assembly. The PML-N government will complete its tenure on May 31, after which the caretaker setup will take over to ensure transparency of general elections.
If the current government presents the budget then it will be a political budget, he said, explaining that the budget's sole purpose would be to gain a political advantage. "It is the responsibility of the new government to present the budget of 2018-2019," the Pakistan Tehreek-e-Insaf leader added.