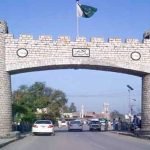 SWAT: A three-day Winter Sports Festival started in Malam Jabba, Swat today.
The Tourism Corporation Khyber Pakhtunkhwa and district administration of Swat has jointly arranged the festival.
Skiing, Ice hockey, Archery and music are part of the festival.
Hundreds of local and foreign tourists are attending the festival.
Earlier, winter sports festival has began from 27 December 2019 at the scenic Naltar valley in Gilgit-Baltistan.
National skiers from across the country have arrived at the Resort to participate in the event.
Besides skiing, figure skating, snowboarding, ice skating and ice hockey competitions are also part of the festival.
Sadia Khan Ski Cup competition also occurred in Naltar valley Gilgit.
Skiers from across the country took part in the competitions.
In Slalom competitions Umama Wali of Gilgit Baltistan Ski Association got first position,
Jia Ali 2nd and Khusheem Sahiba of Pakistan Air force clinched 3rd position.