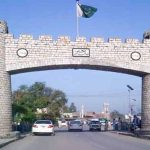 CHARSADDA: A woman and her two children died as roof of their mud-made house collapsed in Sheikhano Bari Band area of Charsadda district here on Tuesday.
The grandmother of the deceased children also died of cardiac arrest when she came to know about the incident. A girl was also injured in the incident who was shifted to hospital.
The deceased were identified as Ayesha, Salma and Ismail. The bodies and the injured were taken to a local hospital. According to doctors, the condition of the injured girl was out of danger.
Earlier in Mardan, four people, including a woman and two children, died when roof of their house collapsed on Monday night.
Local sources said the incident happened due to poor condition of the house in Qudratabad area of Takht Bhai tehsil.
The deceased were identified as 60-year-old Tor Muhammad, his 50-year-old wife and two grandsons, 10-year-old Badroja and six-month-old Abbas.
The disaster response team of the Rescue 1122 immediately reached the incident site and retrieved four bodies from the rubble of the house. The bodies were taken to Tehsil Headquarters Hospital in Takht Bhai.