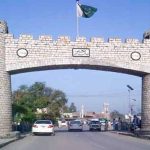 KARACHI: Amjad Sabri a renowned qawwal got killed by unknown gunmen while police on Thursday have released killer's sketch after which the story has taken a whole new turn.
Hameeda Begum, resident of Clifton filed a petition in Sindh High Court (SHC) which stated that the sketch released by the police resembled his son who had been reported lost since 2014.
Hameeda claimed that she had reported case of his missing son in Clifton police station. She also feared that police might accuse his son of involvement in terrorist activities.