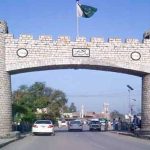 LAHORE: Woman and her two daughters were killed while one girl sustained severe wounds in a firing by their brother in Lahore's Shadbagh area today (Wednesday).
Police personnel said that injured girl Rabia told, "Our brother opened fire and killed my two sisters and mother. He threw us at Chan Shah Graveyard and fled the scene."
The officers said the reason behind the murders is yet to be ascertained.
Moreover, investigation into the matter has been launched to nab the culprit.