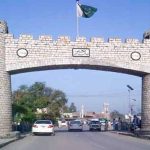 PESHAWAR: The Election Commission of Pakistan (ECP) on Wednesday received reports about barring women from casting their votes in PK-65 constituency of Nowshera.
According to the media reports, the Secretary ECP has taken notice of the incident and summoned a report from the concerned DRO.
He also said that results would be declared null and void in constituencies where turnout of women voters recorded less than 10 percent.
Meanwhile, a polling station set up for women in Haji Banda area of Peshawar remained deserted, reported a private news channel.
According to the report, not a single voter out of 978 registered female voters turned up at the polling station to cast vote.
Residents of the area said that it is considered immoral for women to cast votes in the locality, according to the channel.