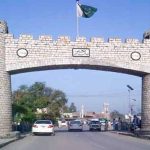 SWABI: Speaker National Assembly, Asad Qaisar has announced establishment of Women and Children Hospital in Swabi and said that all the modern facilities would be ensured in the facility.
He was addressing the oath taking ceremony of Para medics in Baaha Khan Medical Complex Shah Mansoor. He also directed concerned health officials to prepare a feasibility report and PC I of the hospital for initiating work.
He said that all the public sector hospitals in District Swabi have been upgraded and the area citizenry would get all the needed health facilities. He said that efforts of government would resolve the long standing issues of people and address their sense of deprivations.
He urged government servants to dispose their professional obligations with honesty adding government is introducing legislation that would ensure accountability of every government employee who was found guilty of negligence in performing duty. He said that all the political entities of the country should work for the prosperity and development of the country.
Regarding CPEC, speaker said that the mega project of CPEC would usher the country into a new phase of progress adding people would soon witness its benefits. He said that employment opportunities would be created for two million people after establishment of economic zone at Rasakai under CPEC.
He said that government is constructing a new grid station of 220 KV to upgrade electricity system besides establishing new grid stations in Bajaa, Nooran Kali and Chota Lahor.