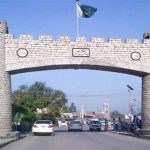 LAHORE: Chief Justice of Pakistan Justice Asif Saeed Khan Khosa says the constitution ensures equal rights and treatment to all citizens including minorities.
Addressing the concluding session of Women Judges Conference in Lahore on Sunday, he said more than 300 females judges are working in district courts of Pakistan.
Justice Asif Saeed Khosa said women judges have proved their abilities by given verdicts according to law in complex cases.
He said soon women judges will be inducted in the Supreme Court.
Chief Justice Asif Saeed Khosa said the contribution of women in the society is increasing with the passage of time.
He emphasized the need for empowerment of women in all sectors of life.
Earlier, Chief Justice Lahore High Court Sardar Muhammad Shamim Khan, addressing the conference, said judiciary plays an important role in structuring and restructuring the society.
He said that gender-based violence courts are being established in Punjab to protect rights of women and children.