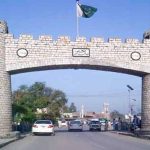 LAHORE: Opposition Leader in Punjab Assembly Hamza Shahbaz on Friday said that he would not sit in the Assembly until the withdrawal of ban on some members of the house by the PTI-led Punjab government.
Talking to media, he said, "We have accepted the elections results despite rigging" and also termed speaker Pervez Elahi's behavior regarding suspension of Pakistan Muslim League-Nawaz (PML-N) MPAs as dictatorial.
He also revealed that speaker Elahi is involved in Ring Road Project and Punjab Bank scandal.
Hamza Shahbaz said that fake photos showing torn copies of agenda, destroyed mic, chairs and podium of the Punjab Assembly were making rounds on social media.
The opposition leader alleged that speaker of the house used derogatory words for female members of the Assembly adding they would not tolerate such behavior.
Let it be known that members of opposition parties particularly those belonging to Pakistan Muslim League-Nawaz (PML-N) – hard-headed opponents of Pakistan Tehreek-e-Insaf (PTI) – resorted to vandalism and tried to sabotage budget session.
Subsequently, the government issued a circular suspending six members of the house and imposing ban on their entry to the Assembly.