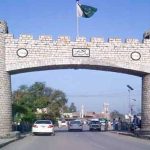 ISLAMABAD: Prime Minister Muhammad Nawaz Sharif says the government will keep on pursuing environment friendly policies to achieve sustainable growth side by side with improving environment.
He said this in a message on the World Environment Day being observed today. The theme of the day this year is "Seven Billion Dreams. One Planet. Consume with Care."
The Prime Minister said the government has undertaken various measures to reverse the tide of environmental hazards affecting Pakistan.
He said he had mandated the concerned agencies to remove all impediments causing environmental problems.