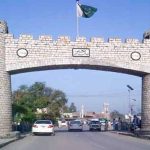 CHILLAS: Prime Minister Imran Khan said that the wrong decisions taken by the past governments led to environmental deterioration and decline in industrial progress.
The prime minister was addressing a gathering in Chillas today, where he spoke about the reopening of tourism in the northern areas with SOPs.
"When our govt took over we had a deficit of over Rs20 billion due to these decisions of the past governments," he told the crowd, adding that the less developed areas of the country cannot be ignored any further.
The Prime Minister said in 1990s, decision was made to generate electricity through imported fuel, which caused current account deficit. He said Pakistan has huge potential for hydel power, which needs to be tapped. He said the government will also launch other hydel power projects.
The Prime Minister said Diamer-Bhasha Dam will change the fate of the people of Gilgit-Baltistan by creating employment opportunities for them. He said the tourism sector in the region will also get promoted with the implementation of the mega project.
Imran Khan said the PTI government is focused to uplift the living standard of the downtrodden. He said the government has enhanced budget of Gilgit-Baltistan with an aim to provide maximum facilities to the people of the region.
"The site is naturally well-suited for building the dam because it has natural rocks. It took us almost 40 years to implement our decision.
(You) can figure out what a huge mistake we have made by not thinking to construct dams for the storage of water."
Speaking regarding the benefits of the project, PM Imran said that it will not adversely impact the climate and create more job opportunities.
"China has constructed 5,000 huge dams. Overall they have 80,000 dams and this will be our third biggest dam," said PM Imran.
Earlier, the Prime Minister was briefed on Diamer Bhasha Dam project. Army Chief General Qamar Javed Bajwa and DG ISI Lt. General Faiz Hameed were also present on the occasion.