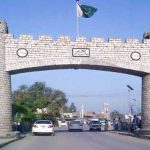 LAHORE: On Monday, an anti-terrorism court (ATC) in Lahore granted a three-day physical remand of Yasmin Rashid, a leader of the Pakistan Tehreek-e-Insaf (PTI) party, to police in connection with the attack on Jinnah House in Lahore during the vandalism that occurred on May 9.
Yasmin Rashid was arrested by the Lahore police on May 17. The Lahore High Court (LHC) had suspended detention of the PTI workers, including Yasmin, under Section 3 of the Maintenance of Public Order (MPO). However, the police arrested her in May 9 riots case.
The ATC judge, after reserving the verdict on Yasmin Rashid's bail petition, announced today that she would be remanded in police custody for physical remand. The accusations against her include delivering a speech against institutions during the violent protests on May 9, which were triggered by the arrest of the party's chief, Imran Khan, in the Al-Qadir Trust case.
The ATC judge has instructed the police to present Yasmin Rashid before the court on May 25.